What an amazing experience I had with one of my 8th grade classes today. It wasn't just a good class or great class. It was a WONDERFUL EXPERIENCE! And it all was unplanned and organic.

This particular day at school was an "irregular" day to start. We had a lot of events going on throughout the building. At times I didn't know whether my students were coming or going, but I knew that from the beginning and was dealing with it pretty well.

The plan for class was for students to get into small groups and present oral history projects via Google Slideshows they created about an influential woman in their lives. Well that plan went out the window when I realized our devices were not going to be available for use. Also, students were arriving to class sporadically, due to all the events of the day. Eventually they all made it and we were finally together.

After some "quick thinking" I left it up to the students to decide what we should do. I gave them some options of course. The options were: 1. Watch a movie about the content we are currently studying 2. Continue on with an activity we began the previous class or 3. Students volunteer to present the project to the entire class. The majority chose the latter with great excitement. With my fingers crossed I willingly agreed.

The first student presented without a hitch. Other students asked questions and I asked questions of the students as a way to facilitate discussion. This all began to take on a life of it's own. As more students presented the conversation developed with every student participating and actively listening. It was fulfilling to see students eager to share the story of an influential woman in their life. It was fulfilling to see students eager to learn more about their classmates. It was fulfilling to see students talk about the process of conducting the project and the meaning they gained from having a discussion with the woman they selected. Many selected their mother or grandmother.

The comments stated and questions asked by students of their peers were truly genuine and contributed positively to the discussion. It was real!

Some questions/comments put forth by the students:

"Tell me again"

"Wait...Tell me more"

"That happened?"

"That's so cool!"

"I didn't know that about you or your family"

​"What a great story"

Verbal feedback given by students were positive. Not only positive in terms of the actual project, but also the opportunity to share, ask questions, and comment.

This experience was so fluid and so organic. It made me appreciate my students more during and after the class. I am even more proud to be their teacher. The best part...I saw they appreciated each other.
Powered by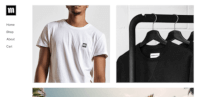 Create your own unique website with customizable templates.