Twitter has become very beneficial to me as an educator. You want information in a condensed, quick to read form? Then Twitter is where to find it. It's mobile, easy to read, and links to pretty much everything. My first use of Twitter on the educational aspect was a way for me to communicate with students and parents. Ideally, a simple way to disseminate information (i.e. homework, assignments, upcoming events). However, many students and parents didn't use Twitter, and I was not very consistent using it in the fashion I originally intended. Thus my focus of usage changed.

I began following different educators and accounts focused on education and educational technology, along with the usual news agencies. Twitter became a way for me to gather information rather than share information. As my usage increased I began to share more of my own interests and retweet tweets I found interesting or helpful. Unknowingly I became a member of various professional learning networks(PLN). These PLN's have contributed greatly to my knowledge growth in educational technology.
​
Twitter gives the user the ability to search and gather information on any topic they may have interest. Using hashtags (#'s) to search for these topics has been a savior for me. Also, using the app TweetDeck has become very helpful. This led to me following more and more people, and also led to me gathering more followers. Many of which I share similar interests. I have even had the opportunity to communicate and have discussions with some outside of Twitter. Participation in different chats, question/answer sessions, and information sharing sessions have become a norm for me as well.

Some people/accounts/topics I follow:
Adam Schoenbar @MrSchoenbart
Sandra Paul @spaul6414
iCivics @icivics
EdTech K-12 Magazine @EdTech_K12
#GAFE Tips @GAFETWEETS
Kahoot! @GetKahoot
Dave Burgess @burgessdave
Christopher J. Nesi @mrnesi
Mark E. Weston Ph.D. @ShiftParadigm
Steven Isaacs @mr_isaacs
NJ Social Studies @NJCSSNetwork
AJ Bianco @AJBianco
Jennie Magiera @MsMagiera
EdTechTeam, Inc. @edtechteam
Jon-Erik Stamatelos @stamglish
Dani Kennis @kennisdani
Marc Seigel @DaretoChem
Molly Schroeder @followmolly
Lisa Thumann @lthumann
Alice Keeler @alicekeeler
Christopher Emdin @chrisemdin
Monica I. Martinez @mimg1225
Google For Education @GoogleForEdu
Ted Talks @TEDTalks
Diane Ravitch @DianeRavitch
Eric Sheninger @E_Sheninger
Cornelius Minor @MisterMinor
​#SatChat

The last two years of teaching has lead to inspiration and change. As a social studies and special education teacher, I have always strived to do the best for my students and improve my teaching. One area where I always had an engaging interest was that of technology. While I always made an effort to incorporate technology into my teaching I found it very difficult. It was difficult for various reasons. One, my limited knowledge and understanding of the tools available. Two, my limited access to equipment and devices. Three, my students' limited access to equipment and devices. Four, limitations based on the infrastructure and culture of my school and "freedom" to explore.

However, those limitations began to change and it has made a direct and positive impact on my teaching and how I not only view my role inside my classroom but also as a member of my school and district's staff.

I always tried to figure my way around those limitations while always reaching a dead end. Those roads began to open up for various reasons. My school district made a substantial investment in improving the infrastructure. Along with improving the infrastructure, the district increased the number of devices available to students and staff. This also included becoming a Google Apps for Education (GAFE) district. The culture of the school began to change in terms of education technology as well. Most importantly, my knowledge and understanding of technology grew greatly.

While attending ISTE 2014 I saw how teachers across the country and world were using GAFE and technology. This reignited my passion for education technology and I was determined to use it as much as possible in my classroom. This led to me participating in various online communities focusing on education technology. Also, I constantly seek out professional development focusing on education technology.

As my knowledge grew due to use with students and learning from other professionals I began to share my experiences with other staff members. Those sharing sessions have led to me creating this website in order to tell my story.
Powered by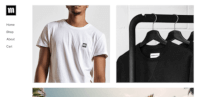 Create your own unique website with customizable templates.